Kanye West Talks Fatherhood And How It Will Affect His Future Music!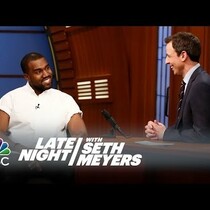 Posted February 26th, 2014 @ 1:47pm
Kanye West was a guest on Late Night With Seth Myers last night and chatted with Seth about fatherhood and his music, why he appears on TV talk shows, and what being an "artist" means to him. He also performed a medley of his hits.
Are you a fan of Kanye West and his passion for his own art?
ox