Batman Was a JERK to Batkid at Oscars!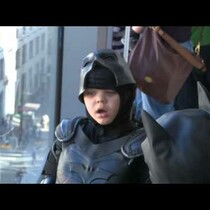 Posted March 9th, 2014 @ 12:17pm
It was one of the greatest stories of 2013. Miles Scott aka "Batkid" beat cancer and had one of the greatest moments ever when he was declared "Batkid" in San Francisco. Things were set to get even better when he was to be celebrated at The Oscars…well that's when real life actor Andrew Garfield turned into a jerk!
The show had a special segment planned where he was to officially make Miles "Batkid" but a source close to the show said,
"...in the middle of the dress rehearsal, Garfield decided he didn't like his lines. Garfield refused to go by the script. He came up with his own lines. The producers felt that Garfield's [rewrites] were not appropriate. Garfield had a tantrum, he stormed off. Miles and his family, who were at the rehearsal, were devastated."