This is SO SAD...Miley Cyrus Breaks Down on Stage!!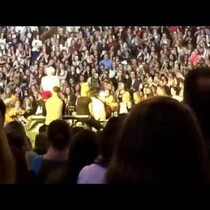 Posted April 3rd, 2014 @ 4:34am
Poor Miley!! She is very sad about the passing of her "favorite" dog Floyd!
She was on stage at her show in Boston, stopped the music and told the crowd exactly why she clearly wasn't herself!!
Losing anyone you love is never easy :(
STAY STRONG GIRL!