What's BTS? Here's What You Should Know!
BTS is a seven-member boy band from South Korea. The group has been active since 2010, achieving moderate success from then until 2017. In the later half of 2017 the group earned international recognition, being the first k-pop group to ever perform at the American Music Awards in November. Since then, the group has seen rising success in the US, with their single Mic Drop, and the Steve Aoki remix of the song that soon followed, reaching #23 on the Billboard Hot 100.
BTS fever is spreading! So if you're asking "Whats a BTS?" then here's the gist of what's going on here...
1. What does their name mean?
It doesn't stand for Behind The Scenes, if that's what you were wondering. BTS is an acronym that stands for the Korean expression Bangtan Sonyeondan which translates literally to Bulletproof Boy Scouts.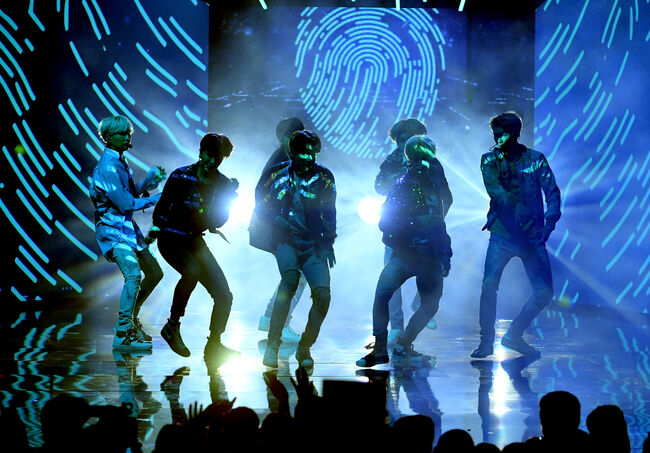 2. They produce their own music.
Boy bands are notorious for having songwriters work on their music while they perfect corn-ball dance moves, but BTS squashes all of those stereotypes. The group has produced and co-written almost every song in their discography...and they have some pretty sick moves too.
3. They are dominating the Billboard Charts.
BTS is the first K-Pop outfit to have three+ releases on the Billboard Top 200. The Most Beautiful Moment in Life: Part 2 peaked at #171, and their latest release You Never Walk Alone is their fourth record to hit that chart at #61.
Fake Love and DNA both hit the Hot 100, Fake Love peaking at #10 on June 2nd, and DNA peaking at #67 in October. Plus they have 3 songs within the Top 10 on Billboard's YouTube Songs chart.
4. BTS fever has spread far and wide!
The group stole the show on May 20th's Billboard Music Awards with their performance of Fake Love, taking home the award for Top Social Artist (have you seen their Twitter army?). Shawn Mendes even mentioned on the red carpet that he "a thousand percent" would like to collab with them in the future (OMG).
5. They're actually not from Seoul.
The group is based out of Seoul, South Korea, none of the members are from their. Jin is from Anyang, Jimin and Jungkook are from Busan, Rap Monster comes from Ilsan, V and Suga are both from Daegu, and Jhope's hometown is Gwangju.

Mo' Bounce
Mo' Bounce is on air in the afternoons at Z100 New York, weekdays from 2pm - 6pm!
Read more