New York City saw the 60th annual Grammy Awards take over the scene on Sunday (January 28), bringing together some of the biggest chart-toppers like Bruno Mars, JAY-Z and SZA together to battle it out for the gold. Unfortunately, only one of those acts really made out well during the James Corden-hosted ceremony, which aired live from Madison Square Garden.
In between the intense competition for awards, the Sunday ceremony also some defiant performances from Kendrick Lamar, Kesha, and Logic. Now, if you missed out on the ceremony, iHeartRadio has you covered with some of the biggest moments of the star-studded evening. After all, they don't call it Music's Biggest Night for no reason.
Kesha's 'Praying' Performance Brings Everyone To Tears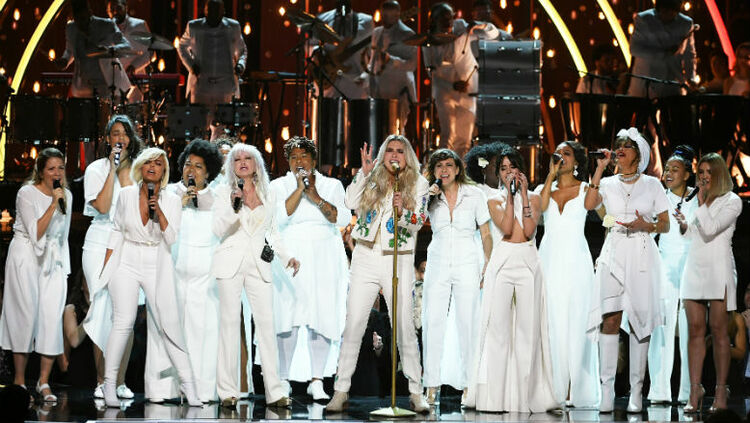 Kesha has performed her comeback hit, "Praying," more times than we can actually remember, but her performance of the ballad at big show was probably her most important showing to-date. Dressed in an all-white ensemble, the pop star took the stage along with some major female backing, including the likes of Bebe Rexha, Camila Cabello, Cyndi Lauper, Julia Michaels, and Andra Day, and it was stunning. After all, it was the music industry's turn to sound off on the #MeToo movement, with several attendees wearing white roses to show their support for the women who have stood up for sexual misconduct in Hollywood. It was emotional. It was moving. It was everything that the Grammys needed on Sunday night to get folks to shed tears.
Janelle Monáe also appeared to do two very important things: make an incredible Time's Up inspired speech -- a big theme throughout the night -- and introduce Kesha's tear-jerking star-studded performance. "Tonight, I am proud to stand in solidarity as not just an artist, but a young woman with my fellow sisters in this room, who make up the music industry. Artists, writers, assistants, publicists, CEOs, producers, engineers, and women from all sectors of the business," she said. "We are also daughters, wives, mothers, sisters, and human beings. We come in peace, but we mean business. And to those who would dare to try and silence us, we offer you two words. Time's up. We say Time's Up for pay inequality. Time's up for discrimination. Time's up for harassment of any kind. And Time's Up for the abuse of power."
Miley Cyrus Joins Elton John For "Tiny Dancer" Duet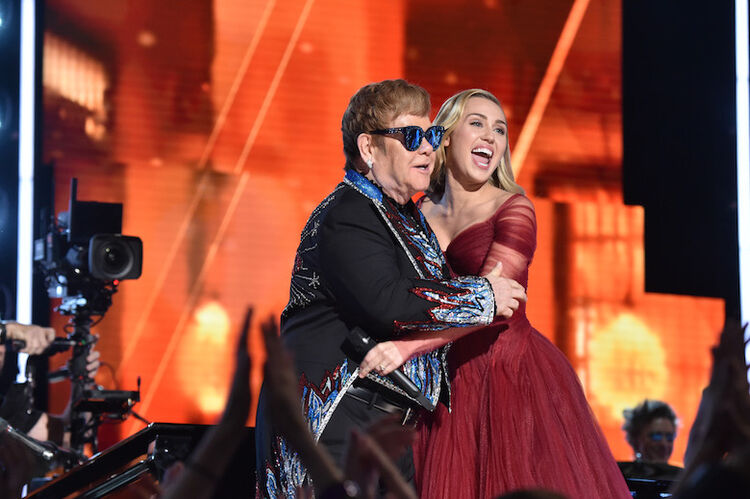 It's been quite the week for one of music's greats, Elton John. The 70-year-old icon announced that this upcoming world tour will be his last, and during the 60th Grammy Awards, he performed one of his biggest hits, "Tiny Dancer," as an amazing duet with Miley Cyrus. Elton, dressed in an incredible jacket adorned with sequins with mirrored sunglasses, sat at the piano where he began performing the song. And on top of the piano was a white rose, tying into the spotlight on the Time's Up movement. Then, Miley Cyrus appeared on stage to help him sing the iconic song. Cyrus looked stunning in a flowing maroon gown with long sheer sleeves.
Maren Morris, Eric Church & Brothers Osborne Tribute Music's Lost Fans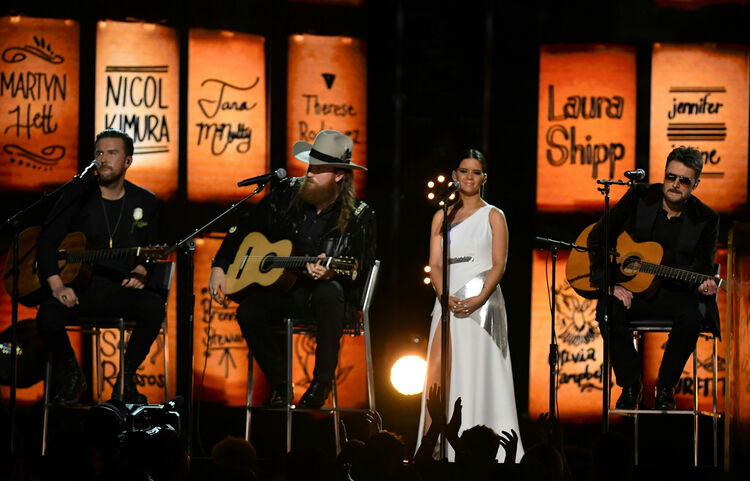 Country music is healing. Eric Church, Brothers Osborne and Maren Morris came together during the show to pay tribute to the music fans who were lost in concert violence in 2017. "On October 1, all of country music was reminded, in the most tragic way, the connection we share with our fans and the healing power music will always provide," Eric said before the performance of the tragedy at Route 91 Harvest festival.The superstars of country provided their vocals to Eric Clapton's "Tears In Heaven" to honor music lovers who died at both Route 91 in Las Vegas and the Manchester Arena bombing in England.
Lady Gaga Shows Off Reported (and Huge!) Engagement Ring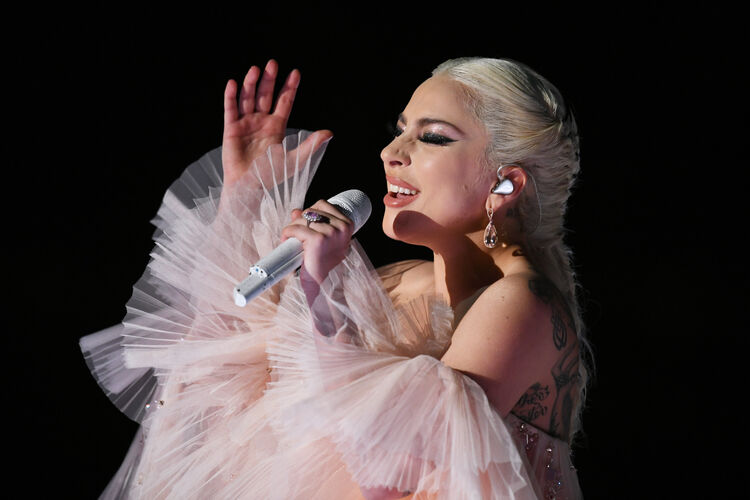 Lady Gaga also wowed on Sunday night. The Grammy winner, who was nominated for best pop solo performance and best pop vocal album, looked stunning in a pink bejeweled and feathered gown while performing "Joanne" and hit "Million Reasons."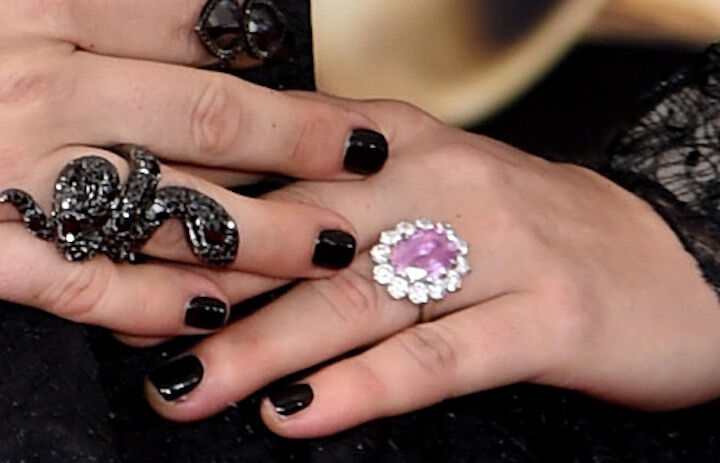 Gaga, who was previously engaged to Taylor Kinney, reportedly accepted the CAA agent's proposal in November 2017, after dating for a year. They first stepped out together at the Super Bowl last year ahead of Gaga's halftime performance.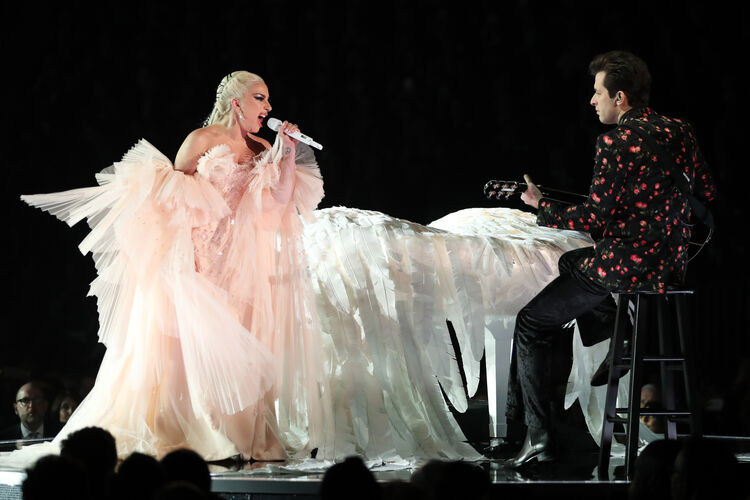 She turned heads earlier on the red carpet in a black lace ensemble and debuted what appeared to be her engagement ring from Christian Carino.
The stunning rock features a pink diamond surrounded by smaller pave diamonds.
Kendrick Lamar's Grammys Opening Continued To Show His Bold 'Wokeness' Kendrick Lamar opened the big show in quite possibly the most unique, unforgettable way we've ever seen in the award show's 60-year history. Before the show even started, the MC was already a big winner of the night. Pre-Grammys, Kung Fu Kenny copped three Grammys for Best Rap Performance, Best Rap Song, and Best Music Video for "HUMBLE." So, being that he already had a lot to celebrate and feel good about, of course Lamar was going to open up the awards show like a champ.
In an interview with E!'s Live from the Red Carpet, 2018 Grammys host, James Corden, gave the 411 about the rapper's set. "Kendrick [Lamar] opens with Bono and The Edge with Dave Chapelle in what is quite possibly the most unique opening to a Grammys you've ever seen," Corden shared. "I've never seen anything like it." And the host wasn't lying... Lamar first started his set with a track that sheds light on police brutality, "XXX." as Bono contributed the vocals. After that, K. Dot transitioned into another smash from DAMN., which was "DNA."
Gary Clark Jr., Jean-Baptiste Pay Tribute to Chuck Berry, Fats Domino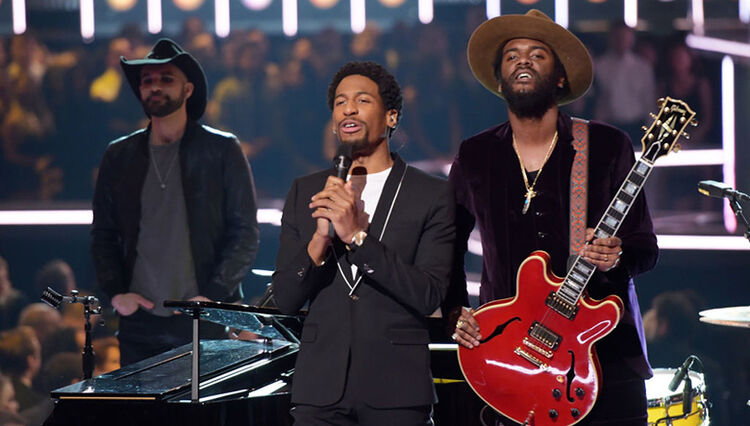 The Grammys lso paid tribute to two rock and roll trailblazers who passed away in 2017. Gary Clark Jr. and Late Show with Stephen Colbert bandleader Jean-Baptiste led the tribute to the late-Chuck Berry and Fats Domino. The duo performed Domino's "Ain't That a Shame" and Berry's "Maybellene." Clark Jr. also appeared at the Grammys last year to perform a rendition of Albert King's "Born Under a Bad Sign" alongside William Bell.
Bruno Mars & Cardi B's Grammys Show Made Us Wish The 1990s Were Back Individually, Bruno Mars and Cardi B are untouchable. So, when you combine the both of them, nothing but music magic is created, especially on stage. For their performance, Mars and Cardi brought the In Living Color plot of their video to life. Decked out in their 1990's inspired outfits, as they danced classic moves from the decade, their performance brought Madison Square Garden DOWNNN. And, of course, social media didn't want to fun performance to end. Take a look at the best reactions below.
Rihanna Channels The Red Dancer Emoji During 'Wild Thoughts'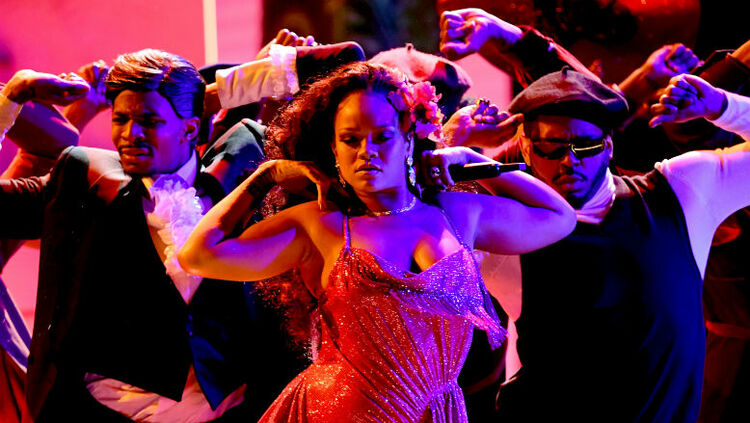 It's a bit startling to think that we haven't seen a live performance of the DJ Khaled-produced smash, "Wild Thoughts," featuring Rihanna and Bryson Tiller until the 2018 Grammy Awards, but it looks like it was absolutely worth it. In fact, the debut performance of the all-star hit arrived on Sunday and saw the pop titan channel one of the most beloved emojis around.
During the number, Rih, Khaled, and Bryson appeared on the New York City stage with a number of wild-looking dancers, but it was Rihanna's own outfit that caught the attention of all. Rocking a red-hot dress, the pop titan worked the stage with some simple choreography as Khaled played the hype man on top of a platform. Everyone's favorite hip-hop producer, as well as Bryson, were dressed to impress but Rihanna (and her stank face) proved to be the real highlight of the three-minute number. See clips of the performance below!
Camila Cabello Delivers Powerful Speech About Dreamers Camila Cabello gave a powerful speech about Dreamers at the 2018 Grammys. In case you didn't know, the singing sensation was born in Cuba and lived in Mexico, until she moved to Miami, Florida with her family at 6 years old. Now, Cabello is using her voice to speak out for those Dreamers -- which is defined as children who migrated to the states with their parents illegally -- whom the government wishes to be silenced and removed. "Tonight in this room full of music's dreamers we remember that this country was built by dreamers for dreamers chasing the American dream. I'm here on this stage tonight because just like the Dreamers, my parents brought me to this country with nothing in their pockets but hope," said Cabello.
She continued, "They showed me what it means to work twice as hard and never give up. And honestly, no part of my journey is any different than theirs. I'm a proud Cuban-Mexican immigrant born in Eastern Havana. Standing in front of you on the Grammy stage in New York City and all I know is just like dreams, these kids can't be forgotten and are worth fighting for."
Logic Takes On Suicide Prevention, Racism & #MeToo Movement Logic's moving performance of "1-800-273-8255" was also one of the major highlights of the night. Assisted by Alessia Cara and Khalid, the rapper performed his hit single -- which is named after the National Suicide Prevention Hotline -- to bring a powerful message or two on the stage during music's biggest night. Not only was Logic accompanied by Cara and Khalid, but he also invited suicide survivors onstage, too.
The dozens of survivors rocked T-shirts with the hotline's number and the words "You are not alone" on them. These men and women were from all backgrounds, ages, shapes and sizes; and they all came together to show anyone going through tough issues that they were with all of them.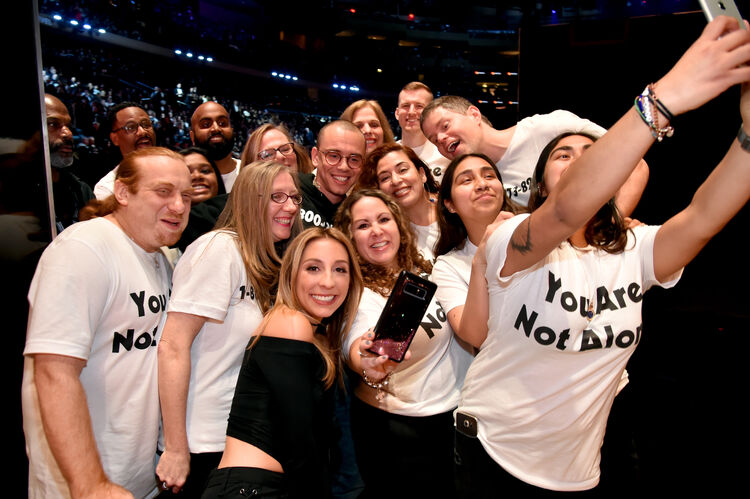 U2 Takes Grammys Performance to Statue of Liberty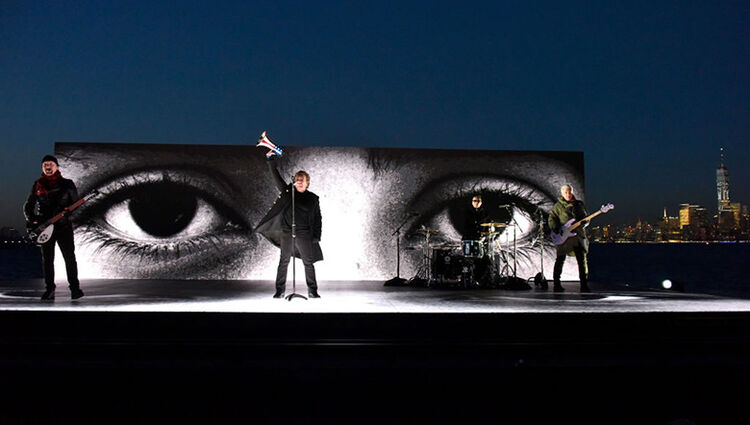 Speaking of fighting for equality, U2 also came to the ceremony with a statement. For their showing, the band performed their song "Get Out of Your Own Way" from the new album Songs of Experience before the Statue of Liberty. The band delivered the not-so-subtle message as Congress prepares to debate a number of immigration issues in the coming weeks.
Chris Stapleton, Emmylou Harris Lead Tom Petty Tribute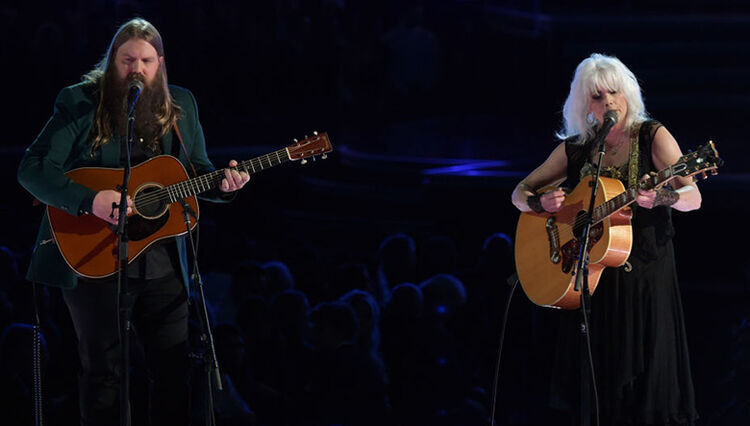 Country star Chris Stapleton and influential singer/songwriter Emmylou Harris paid tribute to the late Tom Petty on Sunday. The two singers performed a rendition of Petty's "Wildflowers" to open the ceremony's tribute to the artists we've lost since last year's Grammy Awards, including Chuck Berry, Fats Domino, Gregg Allman, Glen Campbell, Chris Cornell, Chester Bennington and many others.
Petty passed away in October due to cardiac arrest brought on by an accidental overdose of fentanyl, the same powerful prescription opiate that killed Prince in 2016.