Why Jennifer Lopez Calls Her VMA Vanguard Award 'A Moment Of Validation'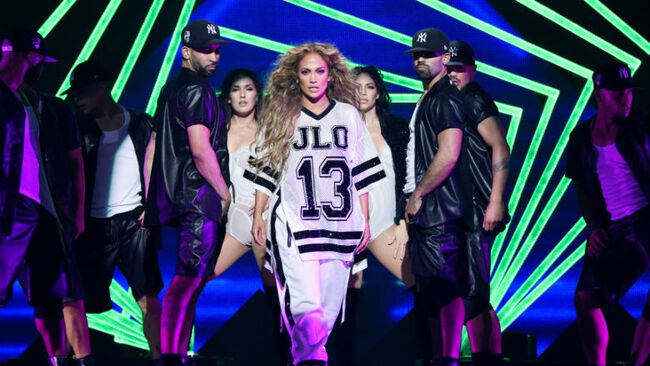 For her return to her the romantic comedy lane, Jennifer Lopez's upcoming film, Second Act, sees the superstar as a 40-something-year-old retail worker looking for another chance at life. After she's passed over for a promotion, her friends create an impressive (but fake) social media presence, leading her to an opportunity of a lifetime at a high-end Manhattan office. While it emphasizes the illegitimacy of social media stature in 2018, the film, more importantly, lifts a page from Maid in Manhattan, another from The Wedding Planner, and remains quintessential rom-com Jennifer Lopez. "I love the idea of being able to have a second act," the 49-year-old star told iHeartRadio of the upcoming project. "Every day and every morning being a new chance to do whatever it is you're dreaming of."
As one of the most celebrated stars of our time, with record-breaking success in both film, music and overall boss woman entrepreneurship, it might not seem like Lopez has ever had to deal with tribulations around a second chance or redemption. But when asked if she's ever felt similar to Maya, her street-smart character in the film, it's clear that the industry has impacted Lopez in more ways than one could imagine. "It's a tough business, and when you've been in it as long as I have ... It's a great business," she admitted. "I wouldn't want it any other way. I have no complaints, but you get beat up when you're out there in the public eye. Sometimes they're trying to tell you that you're not great or that you're not worthy or you're not this or you're not that, and that gets inside your head."
On a day like Tuesday (July 31), there's no one denying J. Lo: the pop star, a bonafide phenomenon with eight studio albums, tallying up more than 80 million records sold worldwide and a staggering 45 accompanying music videos. Her efforts on the latter accomplishment have earned her the honor as the latest recipient of the Michael Jackson Video Vanguard Award at the upcoming 2018 MTV Video Music Awards.
"Honestly, when I heard I was getting the Video Vanguard Award, I was like, 'What?' I was like, 'Really?' I was so touched. You know, I grew up in the MTV video age, so I watched all the great pop icons," she explained, citing Bruce Springsteen, Tina Turner, Michael Jackson, Janet Jackson, and Madonna as influences. "And now I'm getting the Video Vanguard Award. It's just mind-blowing to me. Like you said, [it's] a moment of validation for all the contribution to the music and to the videos and to the visuals and everything that you do as a pop artist. It's just amazing. It is amazing. I still can't believe it, but I'm really excited about it."
What kind of memories does Lopez have of her first music video for 1999's "If You Had My Love," as well as the forthcoming 20-year anniversary of her debut album, On The 6? She reacted almost in disbelief at the milestone. "Oh my God. Is that true?" she asked. "It really was an era in pop music that was so much fun to be around. There were so many women that were at the time. If you think about it, from Christina Aguilera and Britney Spears and the Madonnas and the Janets were still doing their thing, and then it was us, and Beyoncé was with Destiny's Child. There was just so many great women pop artists, and then there was the boybands. It was just a great time in pop music."
"Then there was that whole Latin explosion that happened with Ricky [Martin] and Marc [Anthony] and myself and Enrique Iglesias and Shakira. It was an awesome, awesome time, and for me to be able to still, today, have a record on the radio and a video that's this ... it's amazing," she said of her legacy up until the recently-released "Dinero." "I feel really, really blessed. Blessed to have started at that time and put my first record out at that moment, and then to be here, where I am today."
"Dinero," an all-star collaboration alongside Cardi B and DJ Khaled, was sent to her, courtesy of longtime producer Cory Rooney, on a day off from her "All I Have" Las Vegas residency. Her reaction was immediate. "I was like, 'Oh my God. There's something here. I love this,'" she recalled of the Latin-tinged banger. Always the perfectionist, Lopez thought it needed "a little something," so she reached out to the former Love & Hip Hop star for a guest feature and Khaled to "put a few sprinkles on it as well." "He goes, 'I know exactly what to do to this,' and it just evolved from there," Lopez said. "We worked on it over the next month or two and we just held onto it."
Asked what it was like to work with another Bardi, another strong Latina, who was also born and raised in the Bronx, Lopez had nothing but positive things to say about the new mother. "It's always nice when you have people who have a similar background to you and who understand where you're from," she explained, before detailing an award show run-in with the star. As the story goes, Cardi asked Jennifer how she wanted her to approach her rap verse on the track. Lopez's advice on the request couldn't have been any more in tune with the agenda that the pop titan has carried throughout her two-decade career.
"I said, 'We're both Latina. Just do a little Spanglish on there,'" Lopez recalled. "Just be you."