Jennifer Lopez's Hits-Filled VMA Performance Had A-Rod Fanning Out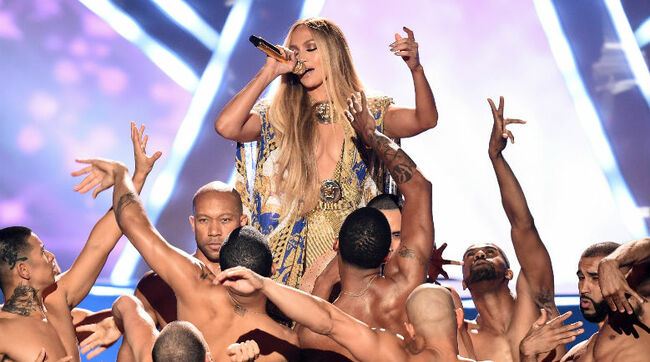 Jennifer Lopez proved just why she's been a show-stopping force for the last two decades when she took to the 2018 MTV VMAs to perform a medley of hits and receive the Michael Jackson Video Vanguard Award on Monday night (August 20), and boyfriend Alex Rodriguez was entirely feeling it.
For the nine-minute medley, the Las Vegas performer took the stage in the middle of the ceremony to offer Radio City Music Hall with a pop spectacle from beginning to end. Kicking off the number with the Hex Hector remix of "Waiting For Tonight," the industry vet ventured into a string of hits, including "On the Floor," "Let's Get Loud," "Ain't Your Mama," as well as My Love Don't Cost a Thing," "All I Have," and of course, "Jenny From the Block." To make things extra special, Lopez also brought out Ja Rule for "I'm Real" and DJ Khaled, who helped turn up the audience with his usual hypeman energy.
During her speech, La Lopez made it a point to mention that all her ventures in entertainment have always been big passions. "It has been an incredible journey of dreaming my wildest dreams and then watching then come true. Music, acting, performing...This career has always been kind of an obsession for me," she said. Later on, the woman of the hour paid thanks to her to twins Max and Emme Anthony. "I knew i had to better and be stronger than I had been before," Lopez said of motherhood. "My whole life became clearer in every way. I stand here stronger and better than ever. So thank you Max and Emme. There's so much to do and I know in my heart that the future is brighter now because of you."
Lopez previously spoke about the big honor with iHeartRadio, admitting that the honor is something she grew up watching her idols receive. "Honestly, when I heard I was getting the Video Vanguard Award, I was like, 'What?' I was like, 'Really?' I was so touched. You know, I grew up in the MTV video age, so I watched all the great pop icons," she explained, citing Bruce Springsteen, Tina Turner, Michael Jackson, Janet Jackson, and Madonna as influences. "And now I'm getting the Video Vanguard Award. It's just mind-blowing to me. Like you said, [it's] a moment of validation for all the contribution to the music and to the videos and to the visuals and everything that you do as a pop artist. It's just amazing. It is amazing. I still can't believe it, but I'm really excited about it."