Pusha T Accuses Drake Of Hiring Fans To Attack Him At Toronto Show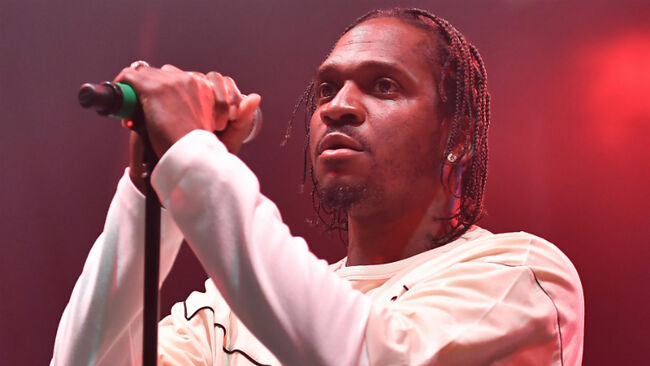 Pusha T performing in Drake's hometown of Toronto may not have been the best idea.
The Daytona rapper's set at Danforth Music Hall was interrupted by several "fans" who tossed drinks onstage before rushing it, causing an all-out brawl. In video, shared by The Shade Room, you see Pusha take cover after a barrage of drinks were thrown onstage. Several people were then shown fighting onstage. Despite initial reports, Pusha was not a part of the fight, nor was he injured.
Following the incident, the "If You Know You Know" rapper returned to the stage, with security behind him, to blame his nemesis Drake for the drink-throwing. "Listen, let me tell y'all something: This ni**a paid some ni**as to throw beer," he claimed, seemingly referring to Drake, who he's long had beef with. "What the f**k is that? Y'all know where the f**k I'm from? You don't even know. Keep going in this b*tch."
According to TMZ, the Toronto Police Department is currently investigating the altercation, which sent three people to the hospital with non-life-threatening injuries. No arrests have been made.
As fans know, Drake and Pusha's beef is deep and has only intensified since Pusha released his infamous diss track, "The Story Adidon" earlier this year. On the track, Pusha revealed that Drake had a secret child and slammed the "In My Feelings" rapper's best friend Noah "40" Shebib, amongst other things.
Pusha and Drake's beef reignited earlier this month after the words "F**k Drake" appeared on a screen during Pusha's set at Tyler, The Creator's 2018 Camp Flog Gnaw Carnival. Many believed the offensive visual was Pusha's continuation of his feud with Drake. However, the "If You Know You Know" rapper later took to social media to deny that he had anything to do with the shady visual. "Corny a** tech dude f**king with my screens at @CampFlogGnaw," he wrote on Twitter. "I speak for myself and all of you know how I make my statements!! Dissing anybody on screen isn't part of my show."
Photo: Getty Images