Maya Rudolph's Infamous 'Bridesmaids' Scene Even Haunts Her At Starbucks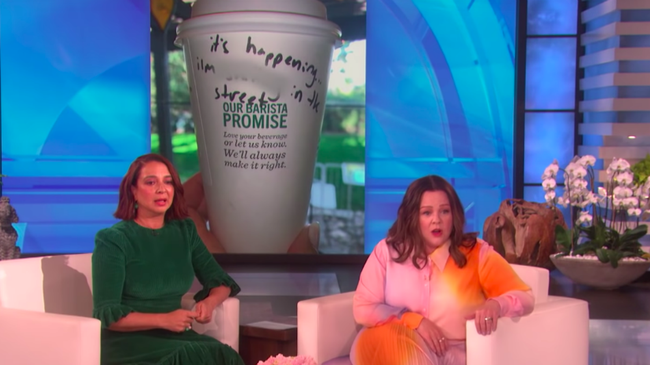 Maya Rudolph's infamous scene in 2011's Bridesmaids still haunts the longtime comedian and the SNL veteran shared a recent story about how the film made its way to 2019 during her appearance on The Ellen DeGeneres Show.
On Thursday (May 16), Rudolph reunited with her film co-star Melissa McCarthy (who stepped in to host Ellen) and the two reminisced about the scene, where nature takes its course after food poisoning from a Brazilian steakhouse, leaving Rudolph no choice other than to use the bathroom in the middle of the street in her wedding dress. "For me, I think I will always be the lady that took a sh*t in the street," she said during her appearance. "I was at Starbucks recently and my Starbucks name, in case anybody wants to know, is Donna, because no one spells Maya correctly and then they pass it to the next person and they say 'Mia' or 'Moira.' But I have to answer to it, so I just changed it to Donna."
Rudolph went on to admit that she was surprised to be handed a cup and the reference to the scene was just too good to be true. "This guy just sheepishly handed me this cup," she continued, detailing that the cup read Rudolph's famous line: "It's happening. I'm sh*ting in the street."
Photo: YouTube/TheEllenShow