Why Don't We Guesses Royal Baby's Name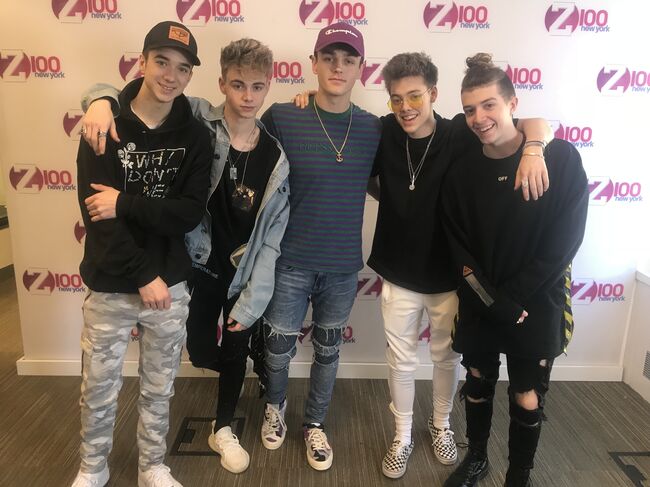 The guys of Why Don't We stopped by the studio today to hang out with Maxwell. What they didn't realize was they were coming into the studio on a -very- royal day. Monday morning, the royal palace announced that Kate Middleton and Prince William welcomed their third baby, second boy, joining George (4) and Charlotte (2).
According to the official Kensington Palace Twitter account, Kate was admitted to St. Mary's Hospital in London "earlier this morning in the early stages of labour." They added, "The Duchess travelled by car from Kensington Palace to the Lindo Wing at St. Mary's Hospital with The Duke of Cambridge." Kensington Palace also noted that the rest of the Royal Family had been notified of the newest little Prince's arrival, tweeting, "The Queen, The Duke of Edinburgh, The Prince of Wales, The Duchess of Cornwall, Prince Harry and members of both families have been informed and are delighted with the news."
The baby's name is expected to be announced soon. And according to PEOPLE, British oddsmakers say that the most popular names for a boy at the moment are Albert and Arthur. But what do the guys of Why Don't We think the baby's name should be? They're in between a few... interesting choices... to say the least! Jonah adds to the conversation saying, "that would be a crazy life to be born into." "Overwhelming," says Daniel.
Royal protocol dictates that an official announcement containing the full details of the baby's birth will be displayed in the forecourt of Buckingham Palace, just as it was following the arrival of George and Charlotte.

Maxwell
Listen to Maxwell from 6pm - 10pm on Z100 for our '9 At 9'
Read more