Bob's Burgers Opened A Pop-Up In NYC And It Is Everything You Imagined
Chef Alvin Cailan is bringing his pop-up Bob's Burgers to NYC!
The pop-up restaurant made an appearance first in Los Angeles, but now is making a 7 day run known as "7 Days of Bobs Burgers" in Soho (62 Spring Street). To keep it in the Bob's Burgers theme there will be a pun-focused name each day to rep the burger of the day! The burgers cost $20 which includes fries, a Bob's Burgers keychain, and a sticker! It also included a card of the ingredients of the burger!
The pop-up will run now until Sunday, December 24th! The place opens at 11:30am and they sell Bob's Burgers until it sells out. I got there a little after noon and was one of the last people to get a burger so make sure you get there around then or earlier!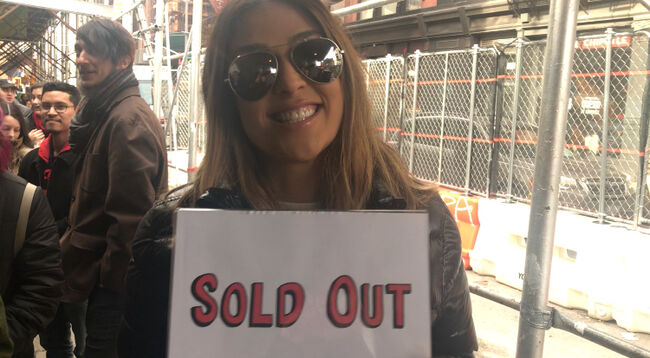 You definitely get a sense of the show right away through hilarious signs featuring the characters and of course the infamous chalkboard sign featuring the burger of the day! It was definitely a sight to see and uhm who would want to eat one of Bob's ACTUAL burgers! It tastes exactly how you would imagine it would!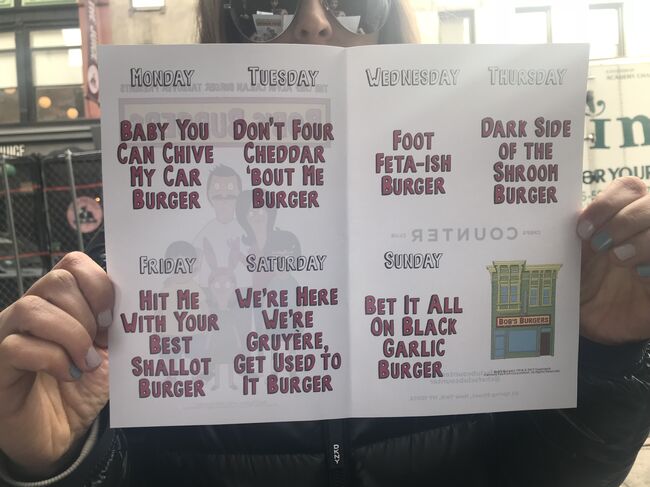 Here is the menu/ingredients for all of the burgers this week! ENJOY 😋
Monday, December 18: Baby You Can Chive My Car Burger, with beef patty, sour cream + mustard spread, chives, fried pickles
Tuesday, December 19: Don't You Four Cheddar 'bout Me Burger, with beef patty, four different cheddars, lettuce, bacon, onion
Wednesday, December 20: Foot Feta-ish Burger/Never Been Feta, with beef patty, feta, arugula, mayo, mustard
Thursday, December 21: Dark Side of the Shroom Burger, with beef patty, shiitake, pineapple, teriyaki sauce
Friday, December 22: Hit Me with Your Best Shallot Burger, with beef patty, caramelized Shallots, chèvre spread, arugula
Saturday, December 23: We're Here, We're Gruyère, Get Used to it Burger, with beef patty, sweet pickles, gruyère, caramelized onions, au jus dipped bun
Sunday, December 24: Bet it all on Black Garlic Burger, with beef patty, mozzarella, spinach, black garlic spread

Shelley Rome
Listen to Shelley Rome on Z100 from 2am - 5am!
Read more